Torys wishes to honour the memory of James M. Tory, who passed away August 19, 2013.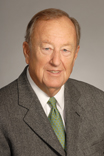 Jim was instrumental to the firm's growth and success over the course of the many years of his leadership. He cared deeply about the firm and insisted that our core values never be compromised. Some years ago, Jim remarked that we should deliver outstanding legal work in the "Torys way". In describing that way, he said: "We should work in a manner that engenders the confidence and respect, not only of clients of the firm, but of the other lawyers involved and their clients, and in an atmosphere of tolerance, friendship, trust and goodwill". That simple statement will stand the test of time as our guide. Jim was particularly pleased that the principles of professionalism which were so important to him have been hard-wired in our firm culture. Those principles will be his legacy to us.
Jim was remarkably smart but modest; he was remarkably generous but humble; and he was remarkably successful but down to earth and warm.  He loved people; and he loved the practice of law, which for him meant helping people find fair and mutually beneficial solutions to legal and business problems.  But his family always came first; and for them, as for his colleagues at the firm, he was an unwavering source of wise counsel and support.  Jim was special and unique, and he will be greatly missed. We will honour the trust that Jim reposed in us by successfully carrying on the firm that bears his name in a way that would make him proud.
We would like to express our heartfelt condolences to the entire Tory family at the passing of this great man.
Les M. Viner
Managing Partner
---
James M. Tory - A Celebration of Life
A celebration of his life will be held on Wednesday, September 4th at 2:00 pm at the Cathedral of St. James, King St. at Church St., Toronto, followed by a reception at Torys LLP, 33rd floor, TD South Tower, TD Centre (79 Wellington Street West). In lieu of flowers, donations may be made to the James Tory Fund for Studies in Business Law, University of Toronto, Faculty of Law, 84 Queen's Park, Toronto, M5S 2C5, or to a charity of your choice.