Torys and WWF-Canada have a shared commitment to the environment. For more than 15 years Torys has contributed to WWF's conservation work by providing pro bono legal expertise.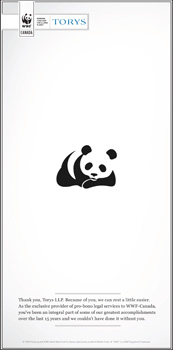 Some areas in which Torys has played a key role include:
WWF's Global Arctic Program – One of WWF's priority programs is conserving the Arctic eco-region, which is a responsibility shared by seven countries. As WWF-Canada assumed leadership of the Global Arctic Program, Torys was instrumental in developing the complex multi-year agreements established with each of the participating countries.
Arctic Home – This cross-border (U.S. & Canada) joint campaign with Coca-Cola supports WWF's project called Last Ice Area – the area where critical Arctic sea ice is predicted to be the most resilient in the face of climate change. Torys provided legal advice for the development of this program and helped secure the multi-year agreement with Coca-Cola.
Policy – Honest and ethical conduct is fundamental to WWF's organization. Over the years Torys has helped develop the policies and by-laws that ensure transparency, compliance and good governance.
Over the course of our relationship with the organization, Torys has also hosted numerous WWF events for donors and partners. Strong relationships with organizations like WWF are part of a core value for community involvement that our lawyers and staff share. For more on Torys' community initiatives and pro bono work, click here.