Torys is pleased to announce the transfer of Tara Mackay from our Toronto office to our New York office effective May 1, 2013. Tara continues her infrastructure and public-private partnerships (P3) practice from New York, advising clients on major capital projects in the U.S., Canada and internationally.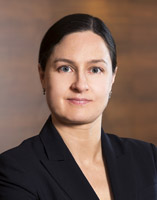 Tara is a partner in our Infrastructure and Energy Group and a key member of our P3 practice. She is recognized as a leader in project finance law and P3 work and has acted on over 30 P3 projects as well as energy, mining and other major capital projects. Joining a team of over 50 U.S.-called Torys lawyers, Tara is now our key contact partner in New York for P3 matters.
"We are following our existing clients and relationships into the expanding U.S. P3 market", said Mark Bain, head of the Torys P3 practice and co-head of the Infrastructure and Energy Group. "Tara is a highly respected infrastructure lawyer, and with her move to our New York office, we believe we offer a compelling proposition to help our clients succeed in U.S. infrastructure and P3 transactions."
Torys has a well-established reputation in P3 and other infrastructure transactions. The firm has a significant presence in the vibrant Canadian P3 market. As the U.S. P3 market gains momentum, our established expertise and U.S. infrastructure platform will allow us to provide current, practical and market-tested advice on U.S. P3 transactions.
"We have been active representing clients in the U.S. infrastructure markets, particularly in secondary transactions", said Phil Brown, managing partner of Torys' New York office. "Having Tara on the ground will expand our transactional breadth and depth in offering cutting-edge advice on P3 and other greenfield infrastructure transactions."