Torys and mergermarket are delighted to announce the release of the Canadian Oil and Gas 2013 Outlook report.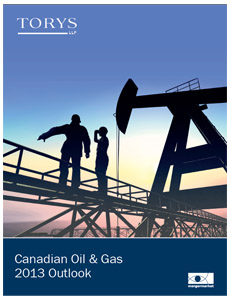 Amid a muted global M&A market, the aggregate value of Canadian oil and gas transactions hit a record high in 2012, and the overall number of deals stayed strong. A combination of domestic and foreign interest, as well as the availability of financing and attractive targets, suggests the sector will continue to be the backbone of Canadian M&A, according to respondents. The report provides
a detailed analysis of some of the key themes for the sector including the regulatory environment, private equity interest and overall M&A strategy
research gathered from a series of interviews with experienced senior corporate oil & gas executives and private equity practitioners focused on the Canadian oil and gas market
merger and acquisition activity in the sector considering the numerous macroeconomic variables in the broader global context as well as within the Canadian oil and gas industry
Read the Canadian Oil and Gas 2013 Outlook here.