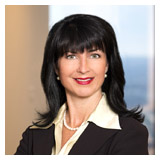 Torys LLP is pleased to announce that Sylvie Rodrigue is joining the firm as partner, effective immediately. Ms. Rodrigue is recognized as a leading lawyer in class action litigation in Canada. She is the founder and past Chair of the Class Action Section of the Ontario Bar Association, Chair of the National Task Force on Class Actions of the Canadian Bar Association, Co-Chair of the International Class Action Subcommittee of the American Bar Association and Co-Chair of the Class Action Working Group of the International Bar Association.
Ms. Rodrigue will open and lead a new office in Montréal to be known as Société d'avocats Torys S.E.N.C.R.L. / Torys Law Firm L.L.P., while continuing her litigation practice in Toronto. The Montréal office will officially open by April 2, 2013, with a focus on litigation. The Montréal office and Torys' existing platforms in Toronto, New York and Calgary align the firm with the evolving needs of its clients.
"We are delighted to have Sylvie join our firm. In addition to her position as a leading advocate in Canada, she brings a unique ability to practise in Quebec as well as in Ontario and the other common law provinces," declared Les Viner, Managing Partner, Torys. "She has repeatedly been recognized as a leading expert in the areas of class action and product liability litigation in Quebec and in Ontario. Sylvie will add further bench strength to our existing group which includes Sheila Block, Patricia Jackson, John Laskin and other leading lawyers."
Media Coverage:
Rodrigue to lead Torys' new Montreal office, Legal Feeds
Class action behind Torys' drive to Montreal, The Globe and Mail
Torys moves into Montreal, Financial Post
Torys opens in Montreal, Global Competition Review