Torys is pleased to announce the launch of the book Annotated Investment Canada Act, by Omar Wakil. This is the only current book on this topic, made timely by a number of recent, high-profile merger and acquisition proposals which have raised the issue of foreign investment review in Canada.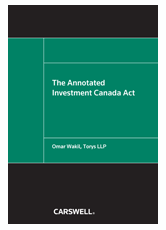 This book is a complete reference tool for Canadian investment review practitioners. It includes the full text of the legislation and its regulations, detailed section commentaries, case law summaries as well as all enforcement guidelines, interpretation notes and policy statements. It also includes other materials relating to foreign investment review, such as the Final Report of the Competition Policy Review Panel and the Foreign Investment Policy in Book Publishing Discussion Paper.
Annotated Investment Canada Act can be ordered from Carswell here.