To mark this season of giving, we have chosen to create a scholarship fund that will assist young people in a high-needs community in pursuing a university or college education. Scholarships will be awarded over 5 years to Grade 10 students at C.W. Jefferys Collegiate Institute in Toronto.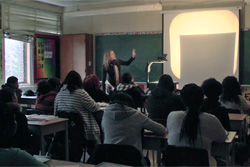 The scholarships will be awarded to students who have demonstrated academic achievement and the potential to be a leader in their school and the community. Two grade 10 students will each receive $1,500 which will go into an RESP (Registered Education Savings Plan). The students will see these savings grow over time and they can be used towards their post-secondary education. Torys and the administration of C.W. Jefferys hope this scholarship will help motivate students to pursue their dreams and encourage them to give back to the community.
"This scholarship is one of many initiatives we have," says managing partner Les Viner. "One of the core values of the firm is to be charitable and be actively involved in improving the communities in which we live."
View a video about this new scholarship fund and learn more about our community activities at Torysdiversity.com.