Lace up on October 25, 2012, to show you're a champion of Special Olympics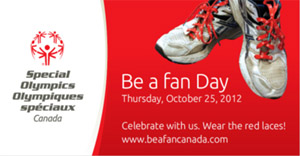 Torys is pleased to support Be a Fan, a national awareness and fundraising campaign for Special Olympics Ontario (SOO). For every donation of $5 or more, SOO will give a participating donor a pair of red laces to wear on October 25 to show support.  
Special Olympics Ontario promotes opportunities for people with intellectual disabilities to develop physical fitness and skills, demonstrate courage, experience joy, and promote friendship between their families and with other Special Olympic athletes and the community.
Over the past 40 years Special Olympics has grown from a modest program serving local athletes to become the world's largest movement dedicated to promoting – through sports – respect, acceptance, inclusion and human dignity for people with intellectual disabilities. Torys has supported SOO for more than 30 years, and we are proud our of long and treasured relationship. Four Torys partners (Bill L'Heureux, the Hon. Laurence Pattillo, Peter Ballantyne and Matthew Cockburn) have served on the Board of Directors of SOO, and Rima Ramchandani currently sits on the board.
Further information on the Be a Fan campaign can be found at: www.beafancanada.com.