Later this month, Bill Estey will be travelling to Liberia to provide pro bono legal advice to the country's Ministry of Commerce and Industry.
The project is coordinated by the International Senior Lawyers Project, a New York-based organization that offers senior lawyers opportunities to do legal work in developing countries on a pro bono basis. Last year on a similar project, Bill worked with Liberia's Ministry of Foreign Affairs.
Bill will be writing about his experiences in Liberia in his blog, Letters from Liberia.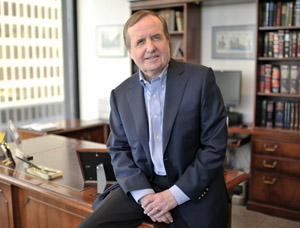 Bill Estey in his office in Toronto