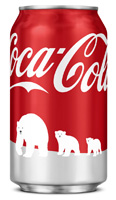 The friendly polar bears in Coca-Cola's advertising are a familiar sight to many. But now Coca-Cola is doing something to help real polar bears. Coca-Cola Canada has teamed up with World Wildlife Fund (WWF) Canada in a campaign to help preserve the Arctic environment. Polar bears will appear on the iconic Coke can.
"This campaign is about working together to save one of the most important places on Earth," said Gerald Butts, President and CEO of WWF Canada. "As sea ice continues to melt at alarming rates, polar bears and local communities alike are threatened. With Coca-Cola's support, we can expand our reach and impact to help chart a sustainable future for this critical Arctic ecosystem."
Torys is pleased to have provided pro bono legal advice on this landmark multi-year agreement. Patricia Koval and Ebad Rahman acted for WWF Canada. Patricia Koval is also Chairman of of the Board of WWF Canada.
For more information:
Coca-Cola video
WWF Canada blog
The Globe and Mail article