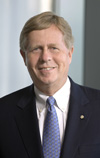 Torys is pleased to announce that the firm's Chair Robert Prichard has joined the Economic Advisory Council to provide economic advice to the Government of Canada. The Honourable Jim Flaherty, Minister of Finance, announced Rob as one of three new members of the Economic Advisory Council, which was established in 2008.
"I thank these new council members for sharing their expertise and look forward with interest to hearing their opinions and ideas," said Minister Flaherty.
The council includes Canadian business and academic leaders who provide advice to the government on a broad range of fiscal, economic and financial issues.
Read the full press release here.