Torys is delighted to announce that The Law of Climate Change in Canada has been awarded the Walter Owen Book Prize.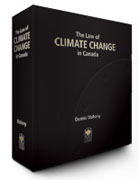 The Walter Owen Book Prize is a national award that is presented each year by the Foundation for Legal Research to recognize outstanding new contributions to legal literature that enhance the quality of legal research in Canada.
Torys congratulates editor and lead author Dennis Mahony and contributors David Dell, Tyson Dyck, Patricia Koval, John Laskin, Michael Pickersgill, Alex Smith, John Terry and John Tobin as recipients of this prestigious award for this work, which was published in 2010. Capturing the depth and breadth of this multidisciplinary area, The Law of Climate Change in Canada is a 19-chapter, 1,200 page multi-author tome and is the first of its kind.