Torys is pleased to introduce the mobile version of Torys.com.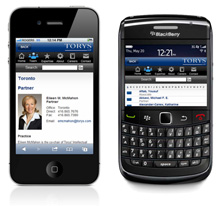 Accessing information about Torys on your mobile device is now faster and more convenient. Our mobile version of Torys.com provides users with the following features and information:
contact information for our Toronto, New York and Calgary offices
contact information and biographies of our lawyers, law clerks, paralegals and IP agents
information about our practice areas and industry groups
highlights of our recent transactions and cases

To visit us on your mobile device, click here.
Torys' mobile site works on iPhones, BlackBerrys and other smart phones and tablets. iPhone users can also download our free iPhone app.