It is with enormous sadness that we learned that John Tory Sr. passed away peacefully on Saturday night.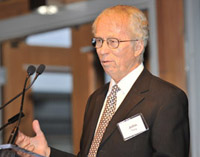 John helped shape the ethos of Torys in becoming an exceptional business executive and in maintaining a legendary loyalty to the firm. He co-led the establishment of Torys and then joined Woodbridge, where he was instrumental in building, with the Thomson family, an outstanding international business that continues to be a source of great pride to Canadians.
John was highly respected as a brilliant legal and business strategist, and admired for his integrity, good nature and good humour.
I speak for all of us at Torys in expressing our deepest condolences to John's family.
A great man will be missed.

Les M. Viner
Managing Partner