Torys is pleased to be partnering with the Canadian Corporate Counsel Association (CCCA) in the launch of the Mobile Event Guide for the CCCA 2011 National Spring Conference, being held in Toronto April 3-5, 2011.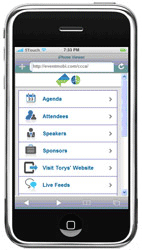 The Mobile Event Guide provides attendees with easy access to the conference schedule and other information through their smart phones.
The free Mobile Event Guide works like an app on any smart phone – iPhone, BlackBerry, Android and others – and provides a host of features, including
full conference agenda, with a customizable My Schedule feature
speaker bios and photos
useful contact info and links to conference organizers

Access the Mobile Event Guide from this link: http://eventmobi.com/ccca/
This Mobile Event Guide is sponsored by Torys and powered by EventMobi.