In less than 48 hours, from July 23 to 25, associates Justin Necpal, Morgan Crockett, Huw Evans and Raegan Kennedy will hike 100 km of the rugged Ganaraska Trail in central Ontario. The hike is part of a fundraising challenge with proceeds going to Oxfam Canada's efforts towards making a difference in the lives of families living in poverty.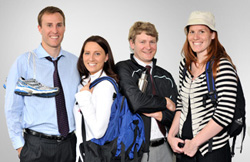 Oxfam Trailwalker is an international event that has raised millions of dollars for Oxfam and its affiliates. The event began in 1981 as a military exercise for the elite Queen's Gurkha Signals Regiment in Hong Kong. It has since grown into one of the world's leading sporting challenges.
"The Trailwalker event," says Justin, "besides being an exciting challenge of our physical and teamwork skills, is a great way to raise awareness of the issues affecting women, men and children living in poverty, and of how effective our support can be in making a difference in their lives."
Torys' team will begin their hike at Snow Valley Ski Resort in Barrie and end 48 hours later (or sooner) along the shores of Orillia.
To support members of Torys' team, click here.
For further information about Oxfam Trailwalker Canada, please visit www.oxfamtrailwalker.ca.