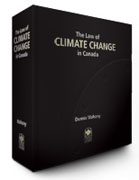 Torys is pleased to announce the launch of The Law of Climate Change in Canada, edited by Dennis Mahony and published by Canada Law Book. Dennis is the head of Torys' Environmental, Health and Safety Practice, and co-chair of the firm's Climate Change and Emissions Trading Practice.
The comprehensive loose-leaf service is the first of its kind to provide in-depth description and analysis of federal, provincial and international legislation and other initiatives that address climate change in Canada. The work also describes in detail some of the many emerging climate change law sub-disciplines, including carbon finance, litigation, real property, tax, securities and disclosure.
Says Dennis: "Climate change is no longer a sub-discipline of an environmental or energy law practice. It is an important part of the legal landscape for mainstream commercial lawyers, including tax, corporate finance and securities lawyers."
The book's co-authors include
The book can be ordered from the Canada Law Book website.