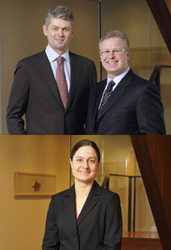 Torys is delighted to announced that Mark Bain and Daniel Ford have joined the firm as partners in our Infrastructure and Energy Practice in Toronto. Tara Mackay has joined the practice as a senior associate.
Mark, co-head of Torys' Infrastructure and Energy Practice and head of the Public-Private Partnerships Practice Group, has particular expertise in project acquisition, development and financing of real estate projects, infrastructure works and P3, including conventional and structured finance solutions.
Daniel is an internationally recognized practitioner with a focus on public infrastructure project finance and development, including P3 and alternative financing and procurement, and financial services matters.
Tara's practice focuses on P3 and alternative financing and procurement, and in the implementation of public infrastructure projects.
We are very pleased to welcome Mark, Daniel and Tara to Torys.