We have definitely seen an upsurge in M&A activity, says Sharon Geraghty in an interview on Business News Network's (BNN) Market Morning:
"The year 2009 has turned into a better year than I was expecting. Confidence levels are changing. In the spring, companies were looking into things, but moving at a glacial pace. Now you're seeing them having the courage to take those big steps, seizing strategic opportunities to grow via acquisitions. This is a good shift. And I believe it will continue."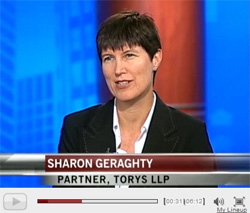 To view the interview, click here.