At ASF 2009, American Securitization Journal and a panel of industry experts, including Michael Feldman, convened to discuss the attractions of Canadian securitization and what steps can be taken to reinvigorate the market.
Participants seem to agree that it should include a mix of more stringent lending standards, less leverage and perhaps more creditor-friendly laws. Canada already boasts these attributes and its financial system has held up better than others. But Canada's asset-backed market could nevertheless benefit from greater transparency. That could speed the growth of its attractive domestic market, which has already taken steps to drum up more interest from abroad—be that from Asia, Europe or the United States.
The discussion is available here (PDF).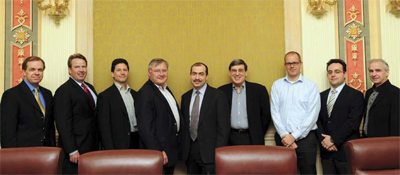 From left to right
Charles Quintal (Caisse de Dépôt et Placement du Québec), George Miller (ASF), Michael Feldman (Torys LLP), Jerry Marriott (DBRS), Dr. Joseph Masri (Canada Pension Plan Investment Board), Martin Fingerhut (Blake, Cassels & Graydon LLP), Antony Currie (American Securitization Journal), Carlo Perri (Northwater Capital Management) and Phil Asseff (MCAP).