Founded in 1995 by Canadian child rights activist Craig Kielburger, Free The Children is the world's largest network of children helping children to develop as socially conscious global citizens and to become agents of change through domestic empowerment programs and leadership training.
Torys has supported the goals of Free The Children since its incorporation over 10 years ago. We assisted on the incorporation of the charity and have provided other pro bono legal advice in a range of areas, including corporate/commercial and intellectual property matters, as well as in making financial donations to the charity.
Torys also advised Craig and Marc Kielburger in 2008 on the corporate reorganization and other business activities of a related Toronto-based organization Me to We Social Enterprises, which promotes a socially responsible, globally focused approach to living for young people. Me to We encourages youth leadership and supports Free The Children through the sale of lifestyle products, including t-shirts, music, books and trips. Torys advised Craig and Marc Kielburger on the equity investment in Me to We by Participant Media, a provider of entertainment that inspires and compels social change.
Inspired by the work of the Kielburger brothers and the volunteers and staff at Free The Children and Me to We, Sharon Geraghty, Michael Akkawi and numerous other Torys partners and associates have found their support to be a rewarding experience.
Sharon, Michael and others at Torys are continuing to provide pro bono legal advice to both Free The Children and Me to We in 2009. "These guys are just so good that they make you feel good to help them," says Sharon. "They are also very smart and were wonderful to collaborate with in the legal/negotiating arena—always going out of their way to make our team feel valued."
Most recently, the firm's 2008 holiday e-card was sent to clients and friends of the firm with a pledge to contribute to Free The Children's 100 School Challenge.
We are pleased to have received a personal video thank-you message from Marc Kielburger, chief executive director of Free The Children, filmed at a school in Kenya. The video highlights some of the great work that Free The Children does, including the creation of much-needed schools to help educate and empower children around the world.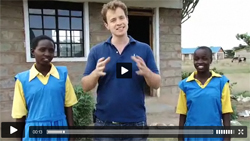 Click here to view the video.