Torys' Climate Change and Emissions Trading Practice continues to demonstrate its expertise on the current and future challenges and risks posed by climate change on business.
Most recently, the group produced a series of four video podcasts that examine the key considerations and challenges for business:
the emerging government regulations
how climate change is affecting investment activity
the potential liability for failing to adapt infrastructure to climate change events

The members of Torys' Climate Change and Emissions Trading Practice and Environmental, Health and Safety practice groups continue to produce timely bulletins and articles on key environmental issues. You may wish to subscribe to receive these bulletins by email.
The co-chairs of the group, Patricia Koval and Dennis Mahony, recently participated in panel discussions at the third annual Business of Climate Change Conference. The conference, held in Toronto on October 15, 2008, was organized by WWF-Canada in partnership with the Canadian Centre for Policy Ingenuity. On the morning of the conference, Patricia and the WWF panda mascot opened the TSX.
Various business and government leaders attended the conference. In a report, conference chair Tony Hare stated, "The relevance of the conference was brought home by one delegate who noted that ten years ago—maybe even five years ago—most of the businesses represented would have found no reason to come along to such an NGO-organized event. In fact, they might have run the other way. But (now)… they are trading ideas, tactics and visions for addressing this most urgent of issues."
Torys continues to be a leader in providing legal advice on the far-reaching and ever-changing issue of climate change. For further information, please read about our expertise or contact Patricia Koval or Dennis Mahony.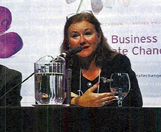 Patricia Koval speaking at the third annual Business of Climate Change Conference