In its August 2008 issue, Interior Design published "O Canada," a cover feature that highlights the recent redesign of Torys' Toronto offices.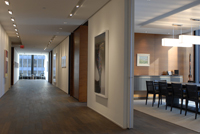 The article praises the work of Kuwabara Payne McKenna Blumberg Architects and the firm's extensive use of Canadian artwork. With flexibility as a key requirement, the redesign included the consolidation of the reception and meeting areas on the 33rd floor, as well as a partial floor below.
"Where at one time it was common to have four to eight people at meetings, we started to need spaces that could handle video conferences, Internet-enabled projects, and functions for up to 200," says Darren Sukonick of the project.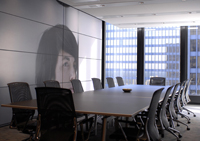 Artwork was commissioned not only to hang on the walls, but to clad the movable walls that separate the flexible meeting spaces. In one suite of rooms, Toronto artist Robert Fones covered both sides of three partitions in photographs of waves in the city's harbour, over which he superimposed translated excerpts from Miguel de Cervantes' Don Quixote. In another area are striking photographic close-ups of an androgynous model in a pensive mood—photographed by Montreal's Pascal Grandmaison.
To showcase Torys' extensive collection of Canadian art, "the architects carved out unusually wide corridors to double as galleries," while conference room interiors feature walnut paneling and bronze door frames, and a subdued grey-on-grey color scheme.
Note: office photos are not from the article