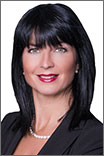 Torys is delighted to announce that partner Sylvie Rodrigue, was honoured yesterday during a special award ceremony with the distinction of "Ad. E." (Advocatus Emeritus) by the Québec Bar. This award is presented to members of the Bar who gain distinction as a result of their outstanding legal career, remarkable contributions to the profession, or who has dedicated his or her efforts to social and community service.
The awards ceremony was held in Montréal, where Sylvie became one of only 19 lawyers to receive this prestigious award this year.
Sylvie is repeatedly recognized as a leading litigator in Canada, and has a broad litigation practice with extensive experience defending class actions across Canada as well as other corporate commercial matters. In addition to leading our Montréal office, she continues her litigation practice in both our Montréal and Toronto offices.
"Our firm and clients have benefited from Sylvie's exceptional skills as an accomplished lawyer, a committed role model and contributor to her community. She is dedicated to quality and service in her practice and we are so proud to see Sylvie's outstanding work receive such well-deserved and highly regarded public recognition" says Les Viner, Managing Partner.
The Lawyer Emeritus distinction is intended to honour an outstanding career. Out of Québec's approximately 25,000 lawyers, 10-20 are awarded the distinction each year, meaning it is reserved for very significant professional accomplishments.
Congratulations to Sylvie on this prestigious distinction!
For more information and for a complete list of recognized lawyers, visit the Québec Bar's website here (list available only in French).