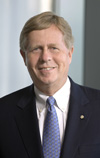 Torys is delighted to announce that the firm's Chair Robert Prichard is to be appointed Chairman of the Board of BMO Financial Group. Rob has been an independent director of BMO since 2000. His official appointment will occur at BMO's annual shareholders meeting on March 20, 2012.
"Under Rob's leadership, I have every confidence that good governance will remain a source of competitive advantage for BMO," said retiring Chairman of the Board, David A. Galloway.
"I am grateful for the Board's confidence," said Rob, "and look forward to working with the Board and management to deliver superior performance by the Bank that defines great customer experience."
Read the official press release here.

Media coverage:
Toronto Star: Prichard to be named BMO Financial chair