Torys congratulates two of our clients for receiving awards for innovation and excellence from the Canadian Council for Public-Private Partnerships (CCPPP):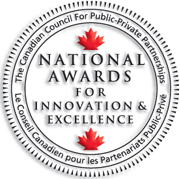 XL Capital Assurance (U.K.) as the monoline insurer to TransLink (the Greater Vancouver transportation authority) won the Silver Award for Infrastructure for its participation in the Golden Ears Bridge project in British Columbia, a bridge that connects Langley, Surrey, Pitt Meadows and Maple Ridge in British Columbia. Bilfinger Berger Project Investments was awarded the project.

Infrastructure Ontario and Niagara Health System as the DBFM procurers won the Award of Merit for Project Financing for their participation in for the Niagara Health System project, a multi-site hospital amalgamation across the 12 municipalities that comprise the Regional Municipality of Niagara. Plenary Health was awarded the project.
(

Mark Bain

, Dan Ford and Tara Mackay advised the partnership before joining Torys.)
Established in 1998, the CCPPP's National Awards for Public-Private Partnerships recognize "governments and/or public institutions and their private sector partners who have demonstrated excellence and innovation in the establishment of public-private partnerships." The annual awards "showcase Canadian excellence and innovation in project financing, service delivery, infrastructure investment and/or generation of economic benefit, which result in enhanced quality of public services and facilities."
For further information, visit the CCPPP's website.